I've been illustrated the Scream Street's children books series written by Tommy Donbavand for Walker Books.
You'll find here the artworks for the books 7 to 13 (see other books here)



Books' covers
Some illustrations from inside the books
19 avril 2012
Puffins Rock is an illustrated book and an iPad application, telling the story of Oona and Baba, two little puffins living on a irish island.
Here are some double-pages.
-early conceptual work -all right reserved -

Co-creation of Tomm Moore & Lily Bernard
Illustrations and Colours by Lily Bernard
Character Designs by Tomm Moore
iPad Animations by Nora Twomey & Fabien Erlinghauser
Co-production by Cartoon Saloon & Dog Ears
05 juillet 2010
I had the chance to teach how to make backgrounds for cartoons, in Boxel Workshops, in Tijuana.
Here is a little background I've made to inroduce my students to the different steps and jobs concerning BGs, in a traditional way.
(click to enlarge)
The point of this class is also to introduce the students to concept art, story-board, layout, clean, composition, colors, animated effects and compositing. I think it is important for them to learn to use as much traditional artistic skills as computer skills. So we're mixing both in this workshop.
They've been making an awesome job!!! =)
see their work here


04 juillet 2010
Background for an Adidas commercial pitch in Cartoon Saloon. (Character design by Diane Le Feyer)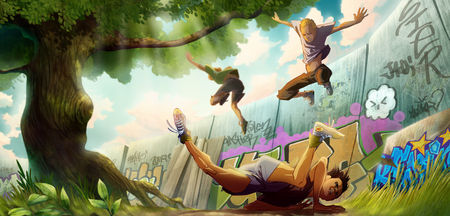 01 juillet 2010
Background for an Adidas commercial's pitch (character design by Diane Le Feyer)
Character designs for the series Zo&Mo
Copyrighted Cartoon Saloon 2010